Searching in Strathprints - Help
Skip to content...
Introduction to searching on Strathprints
A Quick Search and an Advanced Search are both available in Strathprints. For most typical search queries Quick Search is suitable and can always be accessed from the right hand navigation column. Advanced Search can, however, be used if a query term(s) must be searched precisely in specific fields.
Quick Search
Quick Search is always available to users, wherever they might be in Strathprints, from the right hand navigation column (as highlighted in the screen snippet below). Quick Search in Strathprints makes use of Xapian, a probabilistic search engine that supports boolean queries. Word stemming and stop word filtering is also used which allows documents to be ranked according to occurrence and frequency of the matched terms. The Quick Search searches in the PDF full text, in the bibliography (authors/editors, year, title, journal/series title), in the abstract and in other fields.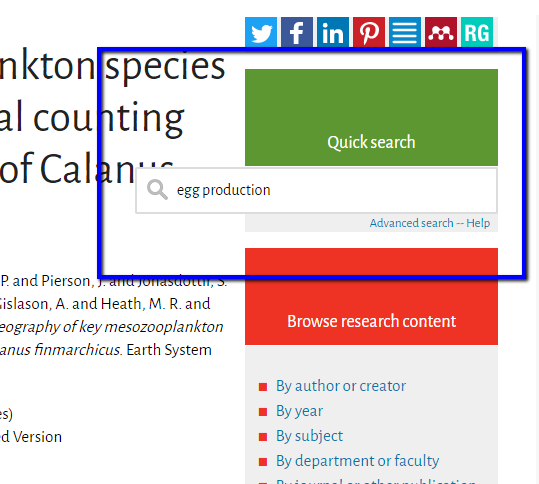 Phrase searches
A search phrase surrounded with double quotes ("") matches documents containing that exact phrase. Hyphenated words are also treated as phrases.
"information retrieval system"
Wildcards
Quick search supports a trailing '*' wildcard, which matches any number of trailing characters, so wildc* search query would match wildcard, wildcarded, wildcards, wildcat, wildcats, and so forth.
Operators
Quick Search supports search operators. The syntax of these operators is similar to other web based search engines, so users familiar with will not have to learn a new syntax. All operators must be typed in uppercase lettering.

AND: Can be used to combine search terms, retrieving documents in which the matched search queries can be found.

information AND retrieval

OR: Matches documents which are matched by either of the search terms.

retrieval OR search

NOT: Matches documents which are matched by only the first search term. The NOT operator will match documents which do not match the second search term.

information NOT "retrieval system"

XOR: Matches documents which are matched by one or other of the search terms, but not both. XOR is a less common search operator but can have uses, especially combined with other operators.

information XOR retrieval AND search

NEAR: Matches documents containing the search terms within 10 words of each other.

retrieval NEAR system

NEAR/n can be used to set a threshold distance for term closeness.

retrieval NEAR/6 system

ADJ

: ADJ is similar to NEAR but only matches if the search terms appear in the same order as in the query. So, the following example:

information ADJ retrieval ADJ system

...matches documents containing those three search terms in that order and within 10 words of each other. You can set the threshold using n (e.g. ADJ/n):

retrieval ADJ/1 system
Bracketed expressions
You can control the precedence of the boolean operators using brackets. In the query one OR two AND three the AND takes precedence, so this is the same as one OR (two AND three). You can override the precedence using (one OR two) AND three.
The default precedence from highest to lowest is:
+, - (equal)
AND, NOT (equal)
XOR
OR
'+' and '-'
A group of terms with some marked with + and - will match documents containing all of the + terms, but none of the - terms. Terms not marked with + or - contribute towards the document rankings. You can also use + and - on phrases and on bracketed expressions.
Advanced Search
Advanced Search offers the possibility of searching Strathprints with greater specificity. By clicking the "?" icon at the field, a short explanation about the field and the permitted queries can be displayed. In Advanced Search, the previous operators and rules of Quick Search do not apply. Terms are always matched exactly, except if wildcards are used.
Wildcards
Allowed wildcards are % (matching exactly 1 character) or * (matching 0 or any number of characters).
Matching terms within a field
A drop down menu displayed in front of a search field allows users to choose between "all of" (all search terms must match, Boolean AND) or "any of" (any of the terms can match, Boolean OR). Default is "all of".
Match conditions for fields
At the bottom of the form, at "Retrieved records must fulfill", a drop down menu allows to choose between "all of these conditions" (Boolean AND search) and "any of these conditions" (Boolean OR search). Default is "all of these conditions".
Browsing
It is often forgotten that browsing is one of the best ways to retrieve information and can often be the source of serendipitous discovery. Strathprints provides several ways in which users can browse content, including by author or creator, by year, by subject, by department or faculty, or by journal or publication title.
Browsing of Strathprints is always possible from the right hand navigation column, below the Quick Search box.
Displaying results
After searching using Quick Search, results are by default ordered by relevance (occurence, weight, frequency and position of matching search query terms). In Advanced Search, results are initially sorted in by relevance. Note that results in both Quick and Advanced Search can, however, be reorderd if necessary by choosing sort options from the drop down menu (e.g. chronologically, by title, etc.).
Exporting results
Strathprints offers a facility to export search results into a variety of formats for use in other websites, citations or reference management systems (e.g. Zotero, EndNote, etc.).
Some popular formats currently supported by Strathprints include ASCII Citations, BibTeX, Dublin Core, EP3 XML, EndNote, HTML Citations, METS, MODS, OpenURL ContextObject, Refer and Reference Manager, the latter of which exports results to the .ris format for easy management within most reference management tools.
To use the exporting facility you must first run your desired advanced or quick search (See earlier sections for details on these) and then select the format you would like to export to from the dropdown menu near the top of the page.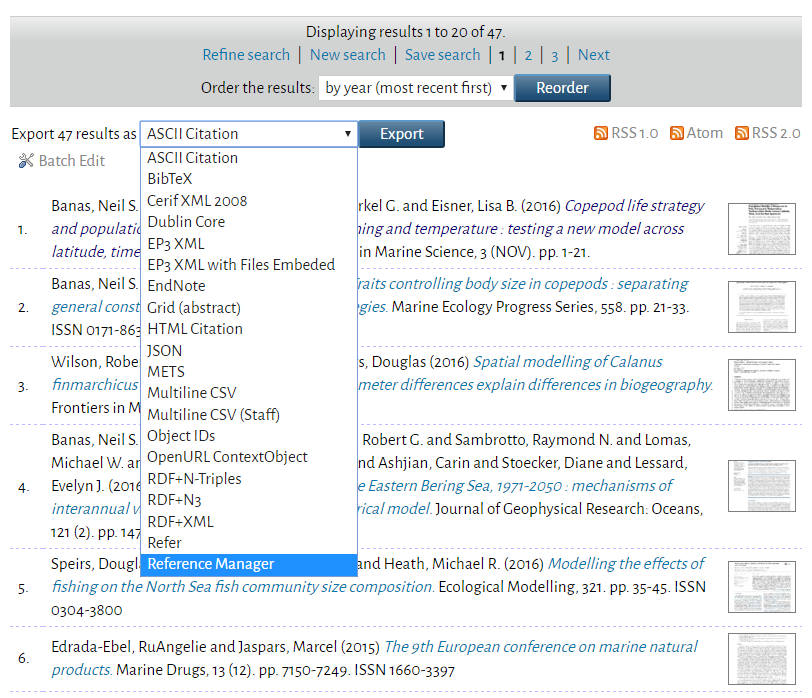 OpenSearch
Strathprints supports OpenSearch. OpenSearch is supported by most web browsers (inc. Chrome, Safari, Firefox, Opera, etc.) and enables users to search Strathprints directly and quickly from a web browser search bar.
The OpenSearch plugin for Strathprints can be easily installed (or "added") by checking the available search engines on your web browser while visiting Strathprints, as illustrated below. Once added to your browser Quick Searches of Strathprints can be conducted at any time during browsing, irrespective of whether you are visiting Strathprints or not. This feature is likely to be of most interest to users who find themselves using Strathprints frequently.